Below are some of the more common questions that arise. However, if you have any further questions that are not covered, then please call us on 01403 823824 and we will be happy to answer your questions in person.
Use one of our simple price calculators to create your own bespoke cabinets and get an instant online quote.
Tick the items you would like, upload your basic dimensions and a digital photo if possible. We will then give you a call you to discuss your enquiry. Nothing goes into production until we are both 100% happy.
How much will my cabinets cost ?
Our prices start from just £390 for a single full alcove dresser with soft close doors and height adjustable shelves (unprimed).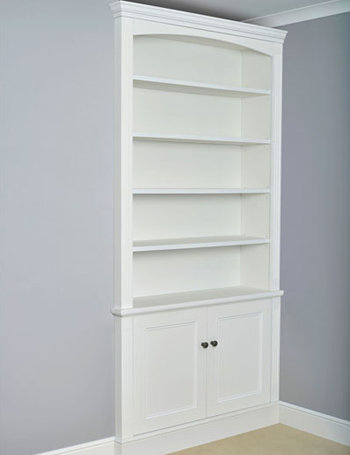 What happens if I make a mistake when ordering ?
We call every customer on receipt of an order; nothing goes into production until we are sure you are happy.
How are the cabinets manufactured ?
When we have your dimensions and design specification we produce a cutting list of all the parts using optimisation cut list software. This list goes automatically to the beam saw accurate to 0.1mm. Using the latest CNC (Computer Numerical Control) machinery, all the holes are drilled to accept the assembly fittings, hinges, shelf holes and alike. If preparation tape is being used then it is applied using our edge bander machine. Everything is checked, the hardware counted and then carefully packaged ready for delivery.
Where are the cabinets manufactured ?
All of our cabinets are made at our workshop in Sussex using the most up-to-date CNC (Computer Numerical Control) machinery to ensure total accuracy.
We require payment in full but only when you are 100% happy with your cabinet specification and are ready to proceed. We accept all major cards, cheques and bank transfers.
How long will my order take ?
Once we've confirmed your bespoke cabinet design we process your order and deliver within approximately 4 weeks.
What can I expect once delivered ?
You will receive all the component parts of the cabinet structure pre drilled and ready to assemble. A parts box will contain all the hardware such as hinges, door knobs, shelf pegs and assembly fittings. Once payment is received we will email you a PDF fitting sequence.
What instructions do I get ?
Upon the purchase of your cabinets we will email you in advance of delivery a PDF fitting sequence for you to look at. You will be familiar with the process and prepared to fit your cabinets ahead of delivery.
Do I need to be a DIY expert ?
No ! Installation is easy, we provide a flat pack 'alcove cabinet kit' that includes everything you need with easy to read, step by step instructions.
What things do I need to consider ?
At the initial measuring stage there can be some elements that need consideration. Such as curtain poles extending into the alcove area, radiators, position of plug and aerial sockets, fire place hearths, fire gas pipes and mantle pieces. None of these are a problem so long as we are aware of them we can account for them. Please see our measuring tips.
I've made a mistake on the installation ?
Don't worry. We have all your cabinet details on file. Should a mistake be made, get in touch ASAP and we will get the necessary parts to you quickly.
Why choose DIY Alcove Cabinets ?
There are so many reasons ! Please see our Why Us? page.
How long will my cabinet take to fit ?
You can expect to fit a pair of alcove cabinets, wardrobes or bookcases in a day.
Why are your alcove cabinets so much cheaper than anywhere else ?
At DIY Alcove Cabinets we offer bespoke cabinetry without the bespoke price tag. As an online business we have significantly less overheads than a high street retailer plus there's no site visit and the cabinet fitting and painting is done by you ! (or your local carpenter).